PEFtrust®,
PEF Compliant Platform
PEFtrust® is a SaaS platform developed by L'Empreinte for Apparel, Footwear and Fashion Accessories brands.
Our mission is to give fashion manufacturers the keys to consistently measure and comparethe footprint of their products.
In order to provide them with an objective and quality analysis of their product's life cycle,we use the only method recognized and recommended by the European Commission :
The PEF (Product Environmental Footprint) :
our PEF methodological reference frameworks are the PEFCR T-shirt and the PEFCR Apparel&Footwear.
It is a precise and comprehensive method that allows us to processdata related to the activity and the environment at product level. This results in a single PEF score which measures the global environmental cost of any consumer product :
Activity data
(with brands and distributors)
x
Environmental data
(EF, Ecoinvent…)
=
PEF SCORE
The lower the PEF score, the lower the environmental impact of the product.
Comprehensive
Product LCA
LCA implies a better traceability of products and data as well as an increased exchange of information with suppliers.  
That's why, PEF, the EU-standardized method makes it possible to evaluate the life cycle of each product in its entirety : from the extraction of raw materials to its end of life thanks to the "cradle to grave" method :
This includes the production of fabrics, assembly, storage in warehouses, sale online or in shops and use (washing machine, dryer, ironing, etc.).  
Please note that this should not be confused with the "cradle-to-gate" method,which does not provide a EU-compliant environmental score because this analysis stops at the factory gate and does not take into account distribution, use and end of life.  
The 7 stages of the product life cycle evaluated by the PEF method :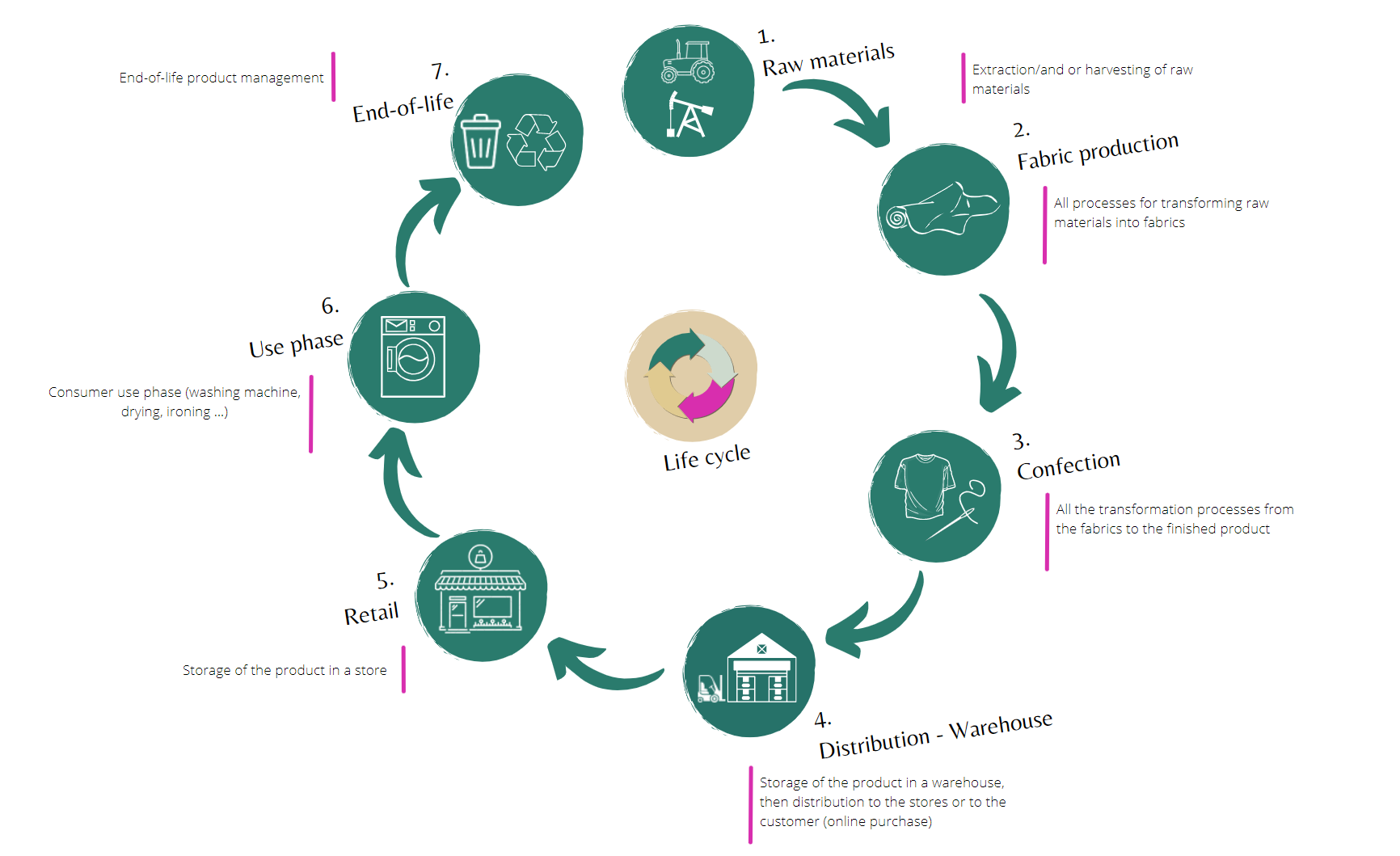 Accurate
Environmental Assessment
The assessment of an environmental impact is quantified through the measurement of environmental impact indicators. The PEF monitors 16 impacts divided into 3 categories.
Human Health
Climate change
Ozone Deletion
Ionizing radiation
Ozone formation
Fine particles
Non-Cancer Human toxicity
Human Toxicity Cancer
Natural Ressources
Land Use
Miniral Depletion
Ressource Depletion, Fossil Fuel
Freshwater Scarcity
Ecosystems
Acifification
Terrestrial Eutrophication
Freshwater Toxicity
Marine Eutrophication
Eutrophication Freshwater
Effective Way To
Compare Products
The PEF method provides a reliable, objective and reproducible score.  
This score allows :  
Consumers to compare the environmental footprint of products from the same category (example: two cotton T-shirts) or from different categories.

 
Brands to benchmark, understand and improve their products collection after collection thanks to eco-design.

 

With few data, you can already enter the era of environmental calculation and implement the first actions.  
As time goes by, a better completeness of your data will allow you, step by step, to refine your results, to comply with current regulations and to communicate them more widely.  
To guide you, PEFtrust® offers you a "3-levels quality ratio"
The Only Method Recognized By The
European Commission
The PEF is a scientific and serious method on which more than 3000 European actors are working since 2013. Scientists, NGOs and industrialists have joined forces to create a state of the art method recognized worldwide.  
Grenelle of the environment1 & 2 :
Raising consumer awareness of the environmental impacts of consumer products

National experimentation CGDD
(General Commission for Sustainable Development)

Single Market for Green Products Initiative
Launch of the PEF (Product Environmental Footprint)

Energy transition law
Obliges manufacturers and distributors to make available to consumers the technical data used to communicate the environmental performance of their products

PEFCR Footwear
PEFCR Tshirt
PEFCR Leather
OEFCR Retail

FREC (Circular Economy Roadmap)
Encourage eco-design, deploy voluntary environmental labelling of products and services in the five pilot sectors (furniture, textiles, hotels, electronic products and food products) and extend it to other sectors

AGEC Law (Anti-waste law) – article 15
– Environmental labeling system
– 18-month environmental experiment to evaluate different methodologies and labeling methodologies
– Environmental labeling scheme made compulsory for the textile sector as a priority

PEFCR Apparel Footwear
– Loi Climat et Résilience – Article 12
– Environmental labeling intended to provide consumers with information on environmental impacts and compliance with social criteria
– The textile sector has been identified as a priority for the implementation of an environmental labelling scheme
– Impacts to be taken into account: greenhouse emissions, damage to biodiversity, water consumption and natural resources
– First environmental labelling for textile and food products in 2023

January, 1st, Implementation of the law : Climat et Résilience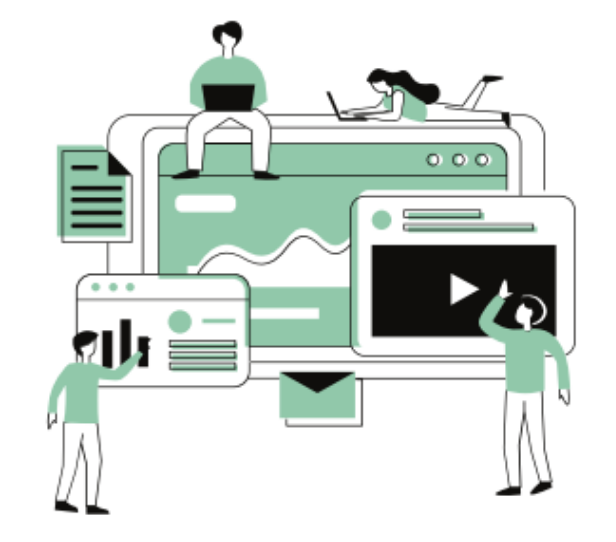 Our goal is to make the PEF method accessible to all, beginners or experts, through an easy-to-use scalable Saas platform.